Radon

Radon is a colorless, odorless radioactive gas that is produced by decaying uranium in the soils and rocks under homes. The gas seeps into the structure through cracks in concrete slabs & foundations and/or through exposed earthen floors in crawlspaces.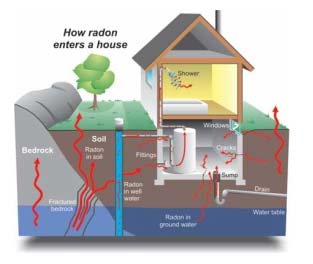 Radon is found throughout the United States. Radon levels can vary widely throughout regions, neighborhoods and even from houses side by side.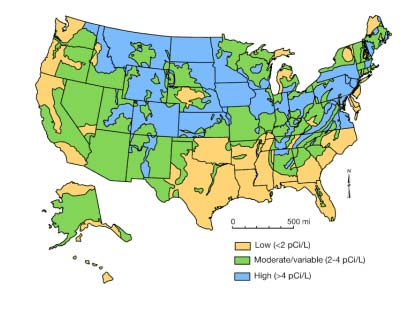 Radon is the second leading cause of lung cancer with approximately 20,000 lung cancer deaths per year. It is the LEADING cause of lung cancer deaths in non-smokers.

The Environmental Protection Agency recommends that homes with levels of radon above 4 piCu/l of air be mitigated.

Peter Fazekas, owner of Exclusive Remodeling and Home Repair, Inc. (ERHR), is certified through the National Environmental Health Association's (NEHA) National Radon Proficiency Program (NRPP) in both Radon Measurement and Radon Mitigation.

ERHR is dedicated to educating its clients on the affects of Radon on personal health and on the techniques used to measure Radon levels and mitigate its presence in a home.

Peter Fazekas is a member of the American Association of Radon Scientists and Technologists (AARST) and participates in conferences and continuing education courses to stay abreast of new technologies and methodologies to better serve our clients.

www.aarst.org

http://www.aarst.org/cgi-sys/cgiwrap/aarst/search.pl?_cgifunction=form&_layout=aarst-alpha&keyval=amember_members.member_id%3D2413

www.radongas.org
ERHR offers comprehensive services including:

Long & Short Term Radon Measurement utilizing both integrative and continuous monitoring devices.

Radon Report Analysis to inform and educate clients on the implications and meanings of reports generated by radon measurement laboratories.

Radon Mitigation Planning, which includes interpretation of measurement reports, physical inspection of the property in question and development of a written mitigation plan with cost estimate.

Radon Mitigation System Installation including Sub-Slab Depressurization, Sub-Membrane Depressurization, Block Wall Depressurization and Heat Recovery Ventilator Systems.