Mold & Moisture

Peter Fazekas, Owner of ERHR, is a NAMP Certified Mold Inspector & Remediator.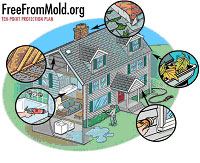 Sources of Moisture
Mold (Fungi) is a common element in our environment. In nature mold is the mechanism by which organic materials are broken down from one form to another: Without mold no Plant, tree, paper, textile or animal debris would break down and return to the soil to continue the cycle of life. Unfortunately under the right conditions mold can be harmful to human health and destroy our belongings and dwellings.
When this situation occurs, a professional mold remediator is needed to remove the mold, clean the contaminated area and eliminate the sources of moisture that allowed the mold to take hold and grow.
The ERHR staff is trained to identify mold contamination; Locate the cause(s) of the contamination (poor venting, leaks, ground water, etc) ; and eliminate all mold using accepted industry practices & standards for cleaning and removal . In addition, since ERHR is a full service company, our staff can repair any structural or aesthetic damage that has occurred and return your property to a sound state.
Remediation and Repair Methodology:
1. Inspection & Identification: Visual and Physical Inspection of suspect areas: Determine areas of contamination and sources of moisture.

2. Testing: Utilize Protimeter Moisture Meter to determine moisture levels in suspect areas. Utilize Sampling techniques (Viable & Non-Viable Air Sampling, Viable Swab samples, and Non-viable Tape Lift) to collect specimens for laboratory analysis.

3. Containment and Filtration: Install per industry best practices containment barriers to ensure safety of property dwellers. Install blowers and/or HEPA Air Filtration Units to create negative pressure zone.

4. Remediation: utilize physical removal techniques (scrapping, sanding, demolition, Abrasive Removal, etc) to remove contamination. Treat cleaned area with Ammonium Chloride based cleaners to remove/deactivate any residual mold spores. Treat with fungicides to retard future re-growth.

5. Moisture Mitigation: Identify sources of moisture. Eliminate leaks. Install venting (soffit, foundation, power, etc.) Install Rad-Tuff moisture barriers meeting performance and efficiency standards.

6. Repair: Repair damaged structural members, sheathing, siding, flooring, drywall, etc.

Mold in Attic

Mold Under Bath Cabinet

Mold on kitchen wall

Mold that has consumed the structure of a floor

Mold that has consumed the structure of a floor

Crawlspace after Remediation
And Installation of Rad-Tuff Vapor Barrier
and Power Vent System
Exclusive Remodeling & Home Repair offers a 3-year warranty on Mold Remediation covering workmanship and equipment.